Get Admission in Teacher Training,Fashion and Polytechnic Courses in Delhi
E-Mail : info@acmteducationcollege.com

ACMT

Education College
(Regd. the GOVT. of NCT of Delhi) ISO 9001:2015 Certified.(approved by Govt. of india)
Call Us
011-27047419, 91-9268747416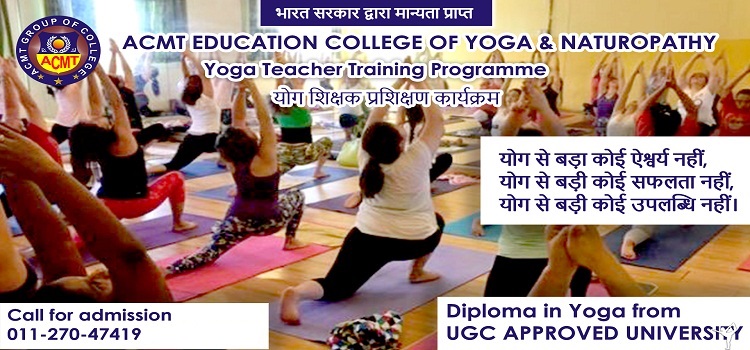 The importance of Yoga has been on an increase all across the world. Along with the time people are getting aware about yoga and its benefits in terms of mental and physical health. Yoga has become a medium of living a healthy lifestyle; it has also turned to be a profession as many people are pursuing this career. This particular course comprises of both practical and theoretical knowledge who want to take up this course for future prospects. Diploma in Yoga is a full time 1 year level program in naturopathy and Yoga Program. The diploma is done in the 1 year course covering all the major aspects of the Yoga. The candidate should have 12th standard degree in any stream with good communication skills. The diploma is divided in 2 semesters and conducted with practical and theoretical sessions. Students are supposed to present a medical certificate in order to prove that they are fir to pursue this course. Taking into contemplation the candidate's health, marks obtained in examinations and other criteria set by relevant colleges, the admissions will be processed further. The course offers physiological and psychological backgrounds of Yoga and its consequence on mind and body of the individuals. The students who wish to pursue this course should be fit, not suffering from any disease which may create a problem in taking up the course. A calm and composed mind will help the candidate to pursue the course with proper dedication and perform all the Asanas easily. After successfully completing the theoretical and practical examination, students will be awarded with certification at end of the course. The candidates can have a strong base for those who wish to hold this course and go further for higher education in Yoga.
There are many career opportunities after completed Yoga Courses:
Yoga instructors
Yoga manager
Therapist
Trainer
Research officer
Yoga experts
Publication yoga officer
Diploma in Yoga is a valuable subject for those who wish to take on further research program of the subject. It is essential for students to be medically fit for enterpriinge this study as any disease or illness can make the program impossible and can guide to further complicatin of health. After diploma the candidates are proficient for jobs as a instructor or trainers in various fields like wellnedd centers, hospitals, fitness hub etc. The program mainly focus on preparing the students for the exoteric characteristic of Yoga.
Eligibility for Yoga Course:
Any candidate who has completed 10+2 standard can join this course.
Documents required at the time of Counseling or Admission for Yoga Course.
10th ,12th Mark Sheet and Certificate.
Residence Proof like Voter Id Card , Adhar Card or Rashan Card Copy or any other.
5 Colored Photographs.
Properly Filled Admission Form with your photograph.
Duration of this Course :
12 months only.
Fee Structure of Yoga Course :
19,500/ per Semester.(*Include Registration Fees + Admission Fees + Books + English Speaking + Computer Theory and Practical + Yoga Lab + Interview Preparation)