Get Admission in Teacher Training,Fashion and Polytechnic Courses in Delhi
E-Mail : info@acmteducationcollege.com

ACMT

Education College
(Regd. the GOVT. of NCT of Delhi) ISO 9001:2015 Certified.(approved by Govt. of india)
Call Us
011-27047419, 91-9268747416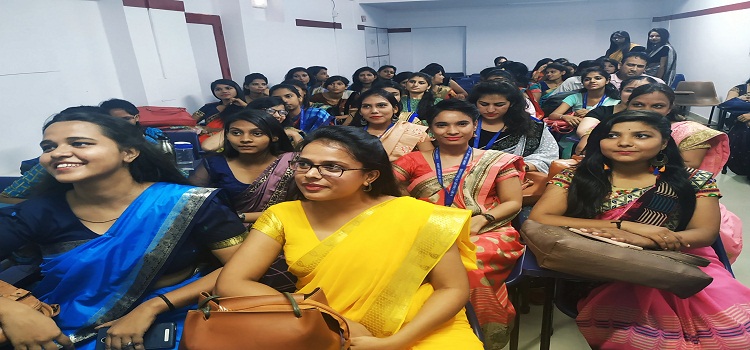 ACMT Education College offers bunch of pre and primary teacher training to shape the aspirant teacher into an expert educationalist. The primary teacher training course is designed to train the enthusiastic teachers along with latest teaching techniques and recompense them with better prospects in the teaching area. All the primary teacher trainers holds a very significant role in facilitating the development and learning of children as they are responsible in building a congenial environment for all the kids. Primary teacher training course will guide you to comprehend the child's mind and take the responsibility towards their physical and mental growth. After the course the candidates are awarded with authorised certificate that will help them to grab good teaching opportunities all around the globe. The Primary Teacher Training Course is conducted in all states of India to find out qualified, talented and trained assistant teachers in the schools. The Admission procedure for primary teacher require the candidate to have passed the senior secondary or its equivalent with a minimum 45% marks and also aspirants who are pursuing a two year diploma in elementary education can also apply. There are numerous colleges or institutes in India that provide teacher training courses for many women who are keen to adapt this as a career. The course includes the speculative side of the child psychology, child's nutrition, pedagogy of various subjects with lots of realistic knowledge while playing. We also teach you the technique of developing a good bond between the child and the teacher. Teaching is a highly respectable profession not only in India but in the entire world.Teachers develop intellect and aptitude in the mind of students and thereby there is overall development in the behavior and thought process of the childand in the future course of life they become good human beings and better individuals.Teachers are contributors in numerous ways. Nowadays there is a concept of activity based learning for the tiny tots so as good values and mannerisms are delved into the minds of students with live examples.This way of learning make things and concepts simple and interesting. Teaching as a profession offer individual to choose from distinct arenas of work.Since the career is related to Education so it is essential for aspiring candidates to secure precise qualification and degree for teaching. ACMT Education College offers variety of innovative learning courses to enable candidates to become good teachers. This course has an innovative feature while helps the student to attain practical learning at kindergartens without any burden. The duration of this course is 24 months and the minimum qualification required is 12th grade.
French Language Course
French is second most popular internationally commended language after English. It is approximately spoken by over 200 millions of people across the world and is at sixth spot in the list of most verbally spoken language. Now days it has become a necessity to learn french. It is an optional subject at the level of school. in order to make their students internationally competent every school has started to give its student acquaintance with the language. It is the best means to give international exposure to the students. Have the experience and feel of being at home at distinct countries of world by being versed with French, one of the most globally accepted laguage. This course is catered at almost every school and universities of the world giving diploma in the language. Students willingly making it their profession as job prospects in it are extensive and have the scope of being self employed too. Are you too inclined towards learning language course? Attain proficiency in French at ACMT COLLEGE FOR EDUCATION, New Delhi. Along with providing degree, vocational and diploma courses, ACMT from the new session is commencing and facilitating diploma language course in French. Don't feel left out in distinct continents of world by learning French, the worldwide acknowledged language.
There are many career opportunities after the Primary Teacher Training Course:
Primary Teachers in Public Schools.
Nursery Teachers in Public Schools.
You can start your own pre-school.
Work with NGO's.
Computer teacher.
Art & Craft teacher.
One can also opt for diploma in The Primary Teacher Training Course which includes:
Theory
Computer applications
Practicals
Art & Craft
Extras
Working women can go for correspondence training sessions in which they can attend weekly classes and appear for the annual exam. Aspirants applying for the post of upper primary teacher should have passed B.A or B.Sc or its equivalent. Candidates in the final year of B.A and B.Sc and pass it with a minimum 45% can also appear for this examination. The training helps the candidates to groom themselves as per the school requirement. Our course combines both theoretical and practical knowledge. At the end of the program our candidates are confident enough to handle the students with the superb skills to prove themselves in the academic industry.
Eligibility for Primary Teacher Training Course:
Any candidate who has completed 10+2 standard can join this course.
Documents required at the time of Counseling or Admission for PTT Course.
10th ,12th Mark Sheet and Certificate.
Residence Proof like Voter Id Card , Adhar Card or Rashan Card Copy or any other.
5 Colored Photographs.
Properly Filled Admission Form with your photograph.
Duration of this Course :
24 months only.
Fee Structure of PTT Course :
19,500/ per Semester.(*Include Registration Fees + Admission Fees + Books + English Speaking + Computer Lab + French Language + Interview Preparation)